Dear God, it's here: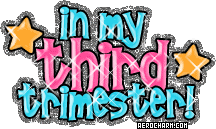 I felt like just yesterday I was writing about how
it's coming
... now it's here. No more 'mesters- this is it, the last one. What am I going to do? I know, have the baby silly! But there is something about the third trimester that's so final and that makes me a little panicky.
I have resolved to enjoy every.single.moment of my pregnancy and I feel like that's what I've been doing for the most part. Today the temperature is expected to be above 95 degrees and that doesn't bother me one bit. I've been indoors most of the day so of course I'm not bothered but the AC is broken in only my office and I am okay. I'm generally not a person that gets hot and I hate the feeling of cold moving air so I think I'm better this way. If I do need to go outside, I'm going to get a smoothie first then carry on.
This week, your baby weighs almost 2 pounds (like a head of cauliflower) and is about 14 1/2 inches long with his/her legs extended. S/he's sleeping and waking at regular intervals, opening and closing her/his eyes, and perhaps even sucking her/his fingers. With more brain tissue developing, your baby's brain is very active now. While his/her lungs are still immature, they would be capable of functioning — with a lot of medical help — if she were born now. Chalk up any tiny rhythmic movements you may be feeling to a case of baby hiccups, which may be common from now on. Each episode usually lasts only a few moments, and they don't bother him/her, so just relax and enjoy the tickle.
According to
The Bump
: Baby's lungs are going through some major developments these days, which (combined with the opening of previously plugged nostrils) means s/he's now able to practice inhaling and exhaling. The lack of air in your womb means every "breath" is filled with amniotic fluid, but hey -- it's progress.
Pregnancy: 27 weeks
Gender: Team Green
Name: Undecided
Weight Gain: Well, since my baby is an estimated 2 pounds now, I should be at least +2 pounds however I am sure I've gained more than that. we will find out officially tomorrow.
Sleep: I have good nights and bad nights. I've finally ordered a HEPA filter for my bedroom at the recommendation of my allergist (nearly a year ago) and I am hoping that will help me breathe better. I can't wait until it arrives!
Feeling: At this current moment I am congested. According to my pregnancy book this is common during pregnancy. In addition to the pregnancy related stuffiness I am used to being like this so it's really no biggie although I wouldn't refuse any relief.
Movement: Such a good feeling :) It is said that up to 28 weeks baby has plenty of room to practice acrobatics and I at times I am sure that's what baby is doing. The baby also reacts to sweet juices. I think it's funny because I like sweet juice too. I am going to enjoy these moments because I've heard stories about the pain that is felt when baby doesn't have 'plenty of room' any more and then decides to stretch.
Belly: I can't see my whoohah! Why do I need to see this you ask? Because this is very trying when you're trying to shave... me and body hair aren't friends right now.
Next appointment: Tomorrow!!!! We get to check on the little one. I'm not all that confident with this appointment though. I have to see the 'third doctor" in my offices practice and she's not much of what I'm used to. She isn't a bad physician but she just isn't what I'm used to. I'm pretty sure we will be in and out in about 20 minutes- that would be the way I want it.
In honor of the start of my third trimester here's an updated belly pic. I call this 'the view from the top'
Now you understand why I can't see my whoohah! (I don't care if you wanted to know that or not but I'll keep saying if I have too). I can still see my feet -if I bend over ever so slightly- and I'll take it. I do however need help putting on shoes that have buckles. Hopefully I'll be doing maternity pictures in three weeks (hint hint brother!) and I'll be able to show off a beautifully photographed bump :)